A Note From Anita Elder at the Art Loft…
Great things come in threes. They really do!
For the first time the Art Loft is offering a series of workshops (3 in fact) in 2023, by the artist, Christopher Groves. The series is called "Oil Painting 'In Depth'".
Why offer a series?
The series of 3 workshops (each 3 days long), will use the scaffolding method, where each workshop builds on the previous ones. Each workshop focuses on specific learning blocks, starting with the basics and moving through to find your own style and voice, offering you a more in-depth study of the art of oil painting.
Why Christopher Groves?
Having studied at the Florence Academy of Art in Italy, Chris also holds a BFA in Environmental Design and Architecture from Colorado University and was a Lead Landscape instructor at the CAA Atelier Colorado classic academy. This gives him a unique perspective, combining his teaching skills with his love of painting, and enables him to pass on his knowledge to others in a structured way that students can build upon. In these workshops you will learn about his different approaches, techniques, and styles of painting, allowing you to expand and find your own.
CHRIS GROVES – Oil Painting "In Depth"
3 Workshops – 3 Days Each
1st Session – Feb. 3rd-5th, 2023
1ST SESSION IS FULL (Only available for those signing up for all 3 sessions)
2nd Session – June 30th – July 2nd, 2023


3rd Session

– November 3rd-5th, 2023



Scaffolding is breaking up the learning into blocks and providing a tool, or structure, with each block, while systematically building on artists' experiences and knowledge as we are acquiring new skills and interpreting the complexities of oil painting.
Workshop 1 – $585
Color Theory / Color Notes / Adding New Tools & Materials / Using Reference Materials / Completing Small Studies (Semi-abstracted)
Workshop 2 – $585
Combining all the things we learned and painted in Workshop 1
Design and Composition / Problem Solving / Combing Multiple Reference Materials / Quick Photoshop Demo / Loosing up on and Completing Mid-Range Size Paintings
Workshop 3 – $585
Combining all the things we learned and painted in Workshop 1 and Workshop 2.
Enlargements / Paint Application / Studio Painting / Realism and Abstraction /
Finding Your Voice and Direction in the Creative Process / Working One Larger Size Painting
More about Chris Groves at cgroves.com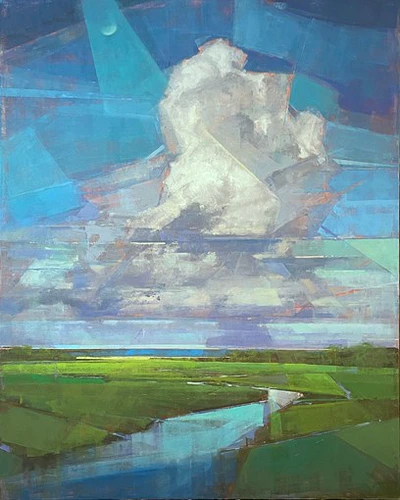 THIS IS A THREE WORKSHOP SERIES
Registration priority will go to those who are signing up for all 3 workshops first.

Registration for individual sessions will be taken on "stand-by only" status and filled as seats are available.
– Each separate session is $585
– On the registration form you can sign up for all 3 workshops for – $1755
QIANG HUANG – Still Life
APR 26 to 28, 2023 – $585
Wednesday to Friday: 9:00 am to 4:30 pm
Qiang's approach to still life painting will be demonstrated with particular focus on creating dramatic set ups by observing the light distribution, and using bold and loose strokes to create a powerful and accurate representation on canvas. Using demonstrations and individual assistance, Qiang will explain his process of creating energetic paintings by manipulating values, colors, edges, and brushwork. Personal attention will be given to each student according to his or her current skill level and personal goals in art. The workshop is designed for indoor practice with live settings.
More about Qiang Huang at qhart.com
ANITA ELDER – Getaway Plein-Air Retreat
JUN 5 to 7, 2023 – $345
Monday to Wednesday: 9:00 am to 4:30 pm
Spring is the perfect time to be painting outdoors in the beautiful Blue Ridge mountains with its spectacular views. Our location for this retreat will be in the Suches Valley, two hours north of Atlanta on Blood Mountain. Our retreat will have us staying two nights (third night if you are from out of town) at "Getaway Chattahoochee" tiny cabins (see link below). Each student is responsible for renting their own cabin prior to signing up for the class. Anita has spent time at the cabins and says "the cabins are beautiful, modern, cozy, and come with all amenities." The cabins have a queen size bed, and some have a queen bunk in addition, if you wanted to share with a friend. The cabins also have small kitchenettes so guests will need to provide themselves food for the stay. Getaway does offer a "Sustenance Box," details on the website, for an additional cost paid with reservation.
Each day will be a different location starting off with teacher demo and students painting after the demo. Anita will be on hand to help each student. This retreat is for beginners through advance. In the evenings all will be invited to gather at one location to enjoy a fire pit and company. Please contact Anita Elder at info@artloft.net for more information.
More about Anita Elder at anitaelderart.com
MORGAN SAMUEL PRICE – Waterfalls With Design
OCT 27 to 29, 2023 – $625
Friday to Sunday: 9:00 am to 4:30 pm
Come and join us this Fall painting Waterfalls in the beautiful North Georgia Mountains. Learn how to compose and develop your landscape for its full potential. When Morgan started her journey with art she discovered she loved teaching as much as she loved painting. Many artists teach but not all see teaching itself as an art, Morgan did. She learned to explain a single concept many ways by tuning into how different people hear information and put learning issues into treasure boxes. Morgan's great respect for the art of teaching made her one of our most respected instructors.
Most of Morgan's students can name the 23 most common design problems. Few probably realize she still examines every inch of her paintings to assure that she has not made those same mistakes herself. Morgan likely has the largest return rate of any painting teacher today, she remembers you and your work, even decades later. Within one painting Morgan knows exactly what you need to do next to be even better. She does not teach generally, each period of instruction, to a group or a student, is tailored, specific, and inclusive of your needs and everyone else in the workshop.
More about Morgan Samuel Price at morgansamuelprice.com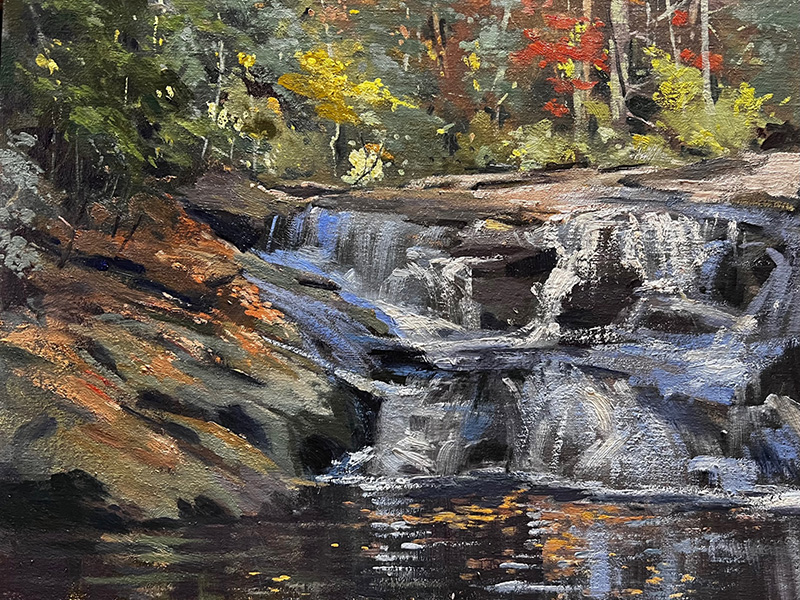 BARBARA JAENICKE – Painting Lyrical Water
NOV 9 to 11, 2023 – $525
Thursday to Saturday: 9:00 am to 4:30 pm
Learn to paint exuberant, lively water so that the viewer can feel the light and hear the sounds! Featuring water as the primary subject matter for this workshop, Barbara will present and demonstrate the approach she uses for painting almost any landscape. Skills covered will include composition (especially in regard to showcasing water in a painting), editing, value structure, color temperature and chroma. Emphasis will be on capturing brilliant light effects for moving water subjects such as waterfalls, rapids, and gently moving rivers and streams. Although the workshop will focus on water, the skills covered will apply to most all other landscape subjects.
Students can paint in either oil or pastel, or alternate between both. Barbara will demonstrate both. Demonstrations will be in the morning, and students will paint in the afternoon with plenty of individual instruction at the easel. This workshop is open to all levels, although artists with at least some basic landscape painting experience and familiarity with their supplies will benefit most.
More about Barbara Jaenicke at barbarajaenicke.com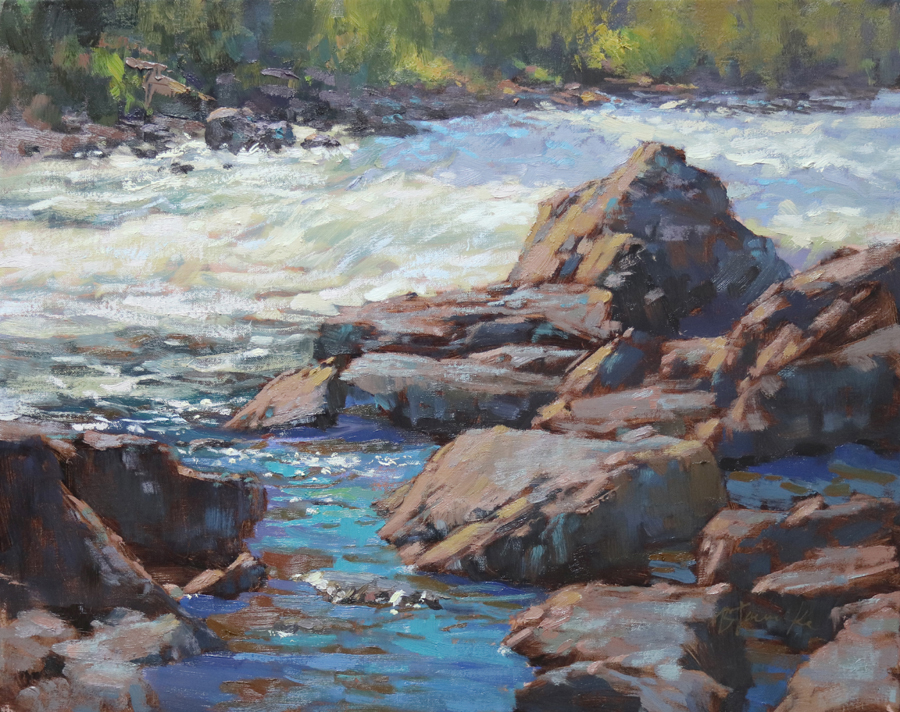 ANITA ELDER – Hand Painted Christmas Card Workshop
DEC 1, 2023 – $185
Friday: 9:00 am to 4:30 pm
We are looking forward to starting our Christmas Season!
Come enjoy the day painting a one of a kind Christmas card for friends and family.
The ArtLoft will be offering its annual Christmas Card workshop. We will work on composition of your painting using reference material provided by the studio or you may bring your own. I have a variety of old Christmas cards that are always nice to help build your composition. I will guide you through your painting process and explain how to have your cards reproduced. Oils, acrylics and watercolor are welcome.
The Artloft will be providing lunch for the Day.
Happy Holidays to all…. Anita